SSL de Validação Extendida (EV)
Ative a barra verde do endereço para confiança máxima e conversões
O que é um SSL EV?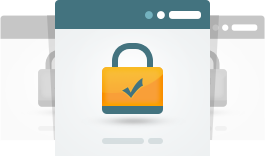 O SSL EV é um Certificado de Validação Extendida (Extended Validation), a classe mais alta disponível nos certificados SSL de hoje e que oferece mais credibilidade e confiança ao seu website quando comparado com certificados de validação de organização ou de domínio.
O SSL EV ativa a barra do endereço a verde e mostra o seu nome ou o nome da sua empresa na barra de endereço do browser. Estes indicadores visuais proeminentes permitem que os visitantes saibam que foram tomadas medidas extra para confirmar o site que estes visitam, aumentando a confiança do utilizador para com o seu website e a sua credibilidade - este é o motivo pelo qual grandes empresas optam por certificados EV.
Recommended Use Cases
Business-critical
domains
eCommerce
New account
signup pages
Contains Your EV Authenticated Organization Details
Certificate details indicate your website is using an Extended Validation SSL Certificate and include the issuing CA, validity status, and expiration date.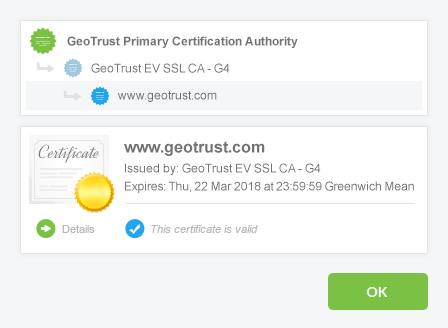 Green Address Bar
Activates the green address bar and displays your company or organization name for a prominent visual security indicator.
Trust Site Seal
Our SSL Certificates come with a trust seal that has been proven to increase visitor confidence and customer conversions.
$1.5m Warranty
EV Certificates come with a $1.5m warranty that covers data breaches caused due to a certificate flaw.
Certificate Features
Secure online transactions
99.9% Browser Compatibility
Our SSL certificates are from some of the most trusted brands in Online Security.